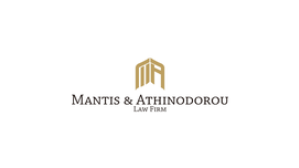 Mantis & Athinodorou LLC was established in 1979, by Penelope Athinodorou-Mantis, the first female lawyer in Paphos, Cyprus. It has grown to be one of the most reputed legal advisory services in Cyprus. As of 2010, the firm has morphed into a family-run business, through the addition of Penelope's sons, Nicolas Mantis and Michael Mantis, as Partners. At Mantis & Athinodorou LLC we pride our personalized services to our clients and ensure that every new case is attended to by a partner. We have three key areas of service which include real estate, immigration and corporate law.
Realestate: We have beennamed 'TheProperty Transaction Law Firm of Cyprus for 2017' by Corporate INTL Global awards, Global Law Experts and ACQ 5. Additionally, we are a Top Tier rm for real estate and construction as per Legal 500.
Immigration: Wehave100%successrateinassisting our clients secure a Cypriot passport through investment. A Cyprus passport in considered to be one of the best passports as it: enables visa free mobility in 150 countries; ensures security for your family in one of the safest countries' in the world; presents unique business opportunities; and provides peace of mind in an inclusive and natural environment.
Corporate: Cyprusisoneofthemostfavourable tax jurisdictions in Europe. We are the only rm in Paphos that provides comprehensive services for the establishment and maintenance of onshore and offshore companies.
Address:
Nikolaou Nikolaidi Avenue 14 , Penelope's Palace , Flat/Office: 101 , Paphos 8010 , Cyprus
Contact:
Michalis Mantis (Managing Partner)
[email protected]
Telephone:
+357 26 934 277