LEGAL PARTNERS - JUSTITIA OMNIBUS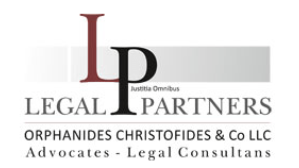 Legal Partners is the distinctive name of Orphanides, Christofides & Co LLC, a lawyer limited liability company registered in Cyprus and regulated by the Bar Association. Our head office is located in Nicosia, the capital and the commercial centre of Cyprus and the home of many international entities.
Legal Partners operates on a departmental basis, providing a wide range of legal services covering most aspects of law. Apart from the range of services offered by our office in Nicosia, extensive facilities are provided by our office in Larnaca.
Our firm provides its services through two main departments
Business and Corporate Department
Litigation and Dispute Resolution Department
Address:
Spyrou Kyprianou 70 , Yiannos Court , Floor: 1, Flat/Office: 103 , Larnaca 6057 , Cyprus
Contact:
Stav Salafori (Head Of Corporate Development)
[email protected]
Telephone:
+357 24 818 881
+357 24 818 883